AJMAL HUSSAIN / PARTNER - Bolton Law Society President 2018-2019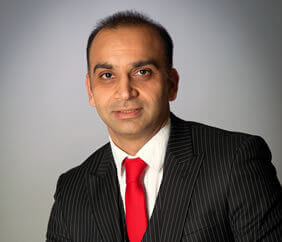 I qualified as a Solicitor in March 2000 with one of the busiest and reputable high street legal aid firms in Bolton. Following qualification I continued to practice in the areas of crime and civil litigation. I have represented clients from police station through to trials at the criminal courts as well as conducting matters at the local county courts. In 2002 I qualified as a Duty Solicitor under the then recent legal aid requirement thereby enabling me to hold a legal aid franchise.
In 2003 I joined AG Solicitors as a partner (now AGH Solicitors). I continued with a similar ethos as the firm where I qualified, that being to treat every client as special and to provide good quality legal advice and representation at an affordable price.
I am the head of the Road Traffic Department which deals with Personal Injury Claims and Road Traffic Offences. I also have a keen interest in Immigration and general Criminal work. I thoroughly enjoy this line of work and have had the pleasure of representing well known personalities including Politicians as well as professional sportspersons. I also represent clients from the Private Hire and Hackney Carriage trades both at the local Criminal Courts as well as the subsequent Licensing Committee Hearings.
In 2005 I was given the pleasure of being called to the Bar by the Honourable Society of Lincolns Inn as a Barrister. However, the work I continue to deploy is in my capacity as a Solicitor. I am also a prior President of Bolton Law Society.
Out of work I have strong commitment towards my family and friends and take pride in being helpful whenever necessary.